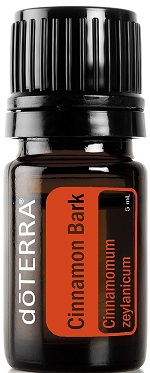 Cinnamon oil, Well-known for its use as a spice, Cinnamon Bark oil also has many health-promoting benefits.
It is also an oil that resonates with the Sacral Chakra enhancing sexuality, and feelings of love.
Uses:
Put two drops in empty veggie capsule to maintain a healthy immune system.*
Place one drop of Cinnamon essential oil in hot water or tea and drink slowly to soothe your irritated throat.*
Put two to three drops of Cinnamon oil in a spray bottle for a quick and effective cleaning spray.
During your nightly routine, add one drop to two ounces of water and gargle for an effective mouth rinse.
Dilute with a carrier oil and create a warming massage for cold, achy joints during winter time.
Cinnamon tastes yummy! I will often use a toothpick and dip inside the bottle, then swirl it around in my coffee or tea. A drop in oatmeal or healing rice porridge takes it from bland to delicious.